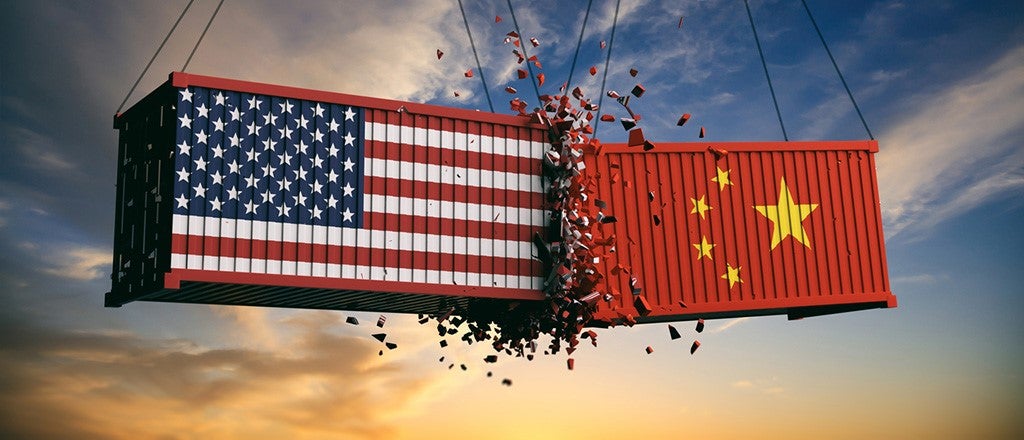 Tariffs are taxes on imported goods and President Trump imposed them with the goal of protecting the jobs of blue-collar American workers. But studies show they had the opposite effect — hurting people in rural areas by pushing them to buy more expensive US goods:
Tariffs are added tax on imported goods.
The idea is that consumers will start to see rising prices on these imported goods and switch to domestic, or less expensive, goods.
There is a transfer from US consumers paying higher prices to US producers benefitting from the higher prices. Government also benefits from the collection of higher tariff revenue.
Due to reduced foreign competition, domestic producers are able to further increase prices, thereby further hurting the US consumer.
What is the overall effect?
The National Bureau of Economic Research (NBER) recently published a study charting the path of what happens to these goods that are tariff targeted. One factor to look at is prices. President Trump says that China will pay for the tariffs, which could be possible. The Chinese exporter can lower the price of the product to such a point that the price doesn't change much for the US consumer, which means the Chinese are paying the cost of the tariff. But data tells a different story.
The split could be anywhere from 0–100% for who bears the costs, and the NBER study shows that the US economy is actually bearing the full cost. So there is no cost affecting the foreign exporters. The tariffs reduced real incomes by $1.4 billion per month (NBER). This represents the cost of higher consumer prices (a welfare cost of $68.8 billion, or .37 percent of GDP), minus the government revenue collected by the tariffs and the additional income of domestic producers who were able to sell their products at higher prices ($61 billion). Because of reduced foreign competition, domestic producers further increased prices. The prices of US manufactured goods rose by one percentage point relative to a no trade war scenario.
NBER's research shows that tariffs could be worse for multinational companies that have made substantial investments in supply chains elsewhere (i.e. China), and have to re-route in order to avoid them. The study estimates this extra cost to be around $165 billion worth of trade. New tariffs are estimated to reduce US imports by 32 percent within products, and retaliatory tariffs from other countries resulted in an 11 percent decline of US exports. Researchers estimate the real income decline to be $7.8 billion per year (.04% of GDP).
The protective effect of the tariffs were greatest for states in the Great Lakes region and Northeast, due to their industries. Meanwhile sectors in rural areas of the Midwest and Mountain West, such as agriculture, were hit harder by the retaliatory tariffs. The average real wage of workers in tradable sectors declined by .7 percentage points, with workers in the Midwest suffering more than those in other regions.
Election 2020?
US tariffs protected industries that tended to employ workers in the most politically competitive counties. Foreign governments imposed retaliatory tariffs in more Republican-leaning counties. Researchers estimated that counties with >85 percent Republican vote share bore losses over 50 percent greater than counties in which the Republican vote was <15 percent (NBER). The tradeable-sector workers in heavily Republican counties were the most negatively affected by the trade war.
Results? US factory activity contracted for the second straight month in September to hit a 10-year low. US manufacturing reported declines in both August (49.1) and September (47.8), the lowest level reported since June 2009. Readings below 50 indicate a contraction. Any improvements are likely far off.
The Institute for Supply Management's new orders index for export also saw a decline for the third straight month. New orders for manufactured goods are seen as a proxy for business investment and consumer demand. In addition, the ISM manufacturing composite index showed all five components' indices were below the breakeven level of 50, suggesting that activity was contracting along each of those aspects of manufacturing activity.
Global Results? The global trade system has been disrupted by the dispute between US and China, which has resulted in a steady increase in tariffs since early 2018 (see Figure I below). Surveys of purchasing managers in Europe and Asia also pointed to declines in factory activity, as a slowdown in exports hits factories. WTO expects goods to grow by just 1.2% in 2019, down from 3% in 2018. Additionally, IHS Markit compiled surveys that point to declines in activity in South Korea, Japan and Indonesia. Bank of Japan showed sentiment among the country's large manufacturers deteriorated to the weakest level in more than six years. In the UK, facing additional challenges of leaving the EU, factory activity fell for the fifth straight month, the longest stretch since the financial crisis. Across the Eurozone, activity was at its weakest since 2012.
Source: NBER, The Return to Protectionism, March 2019
Trade talks between the US and China have somewhat progressed; however, phase-one of the deal soon hit a snag over farm purchases. China is leery of putting numerical commitments on annual US agricultural product purchases, namely $40–50bn worth of farm goods which would be more than double the level before the trade war. Chinese negotiators want removal of existing tariffs, not just refrain from new ones, in exchange. This might occur — the 15% tariff imposed on September 1st on $112bn of goods could be rolled back. In addition, China is willing to offer purchasing liquified natural gas in return. This would be in opposition to USTR Lighthizer's previous statement that tariffs should remain until China proves that it is honoring whatever deal is struck.
Chinese officials have resisted US demands for a strong enforcement mechanism for the deal and curbs on the forced transfer of technology for companies seeking to do business in China. US officials also expect China to sign on to rules to prevent currency manipulation, commit to safeguarding companies' intellectual property and open up financial markets. However, will market openings in banking and other areas mean much if China doesn't commit to rules that allow freer flow of data and the handover of technology when entering the Chinese market? Even if these mini-deals are signed off on, the trade war will be far from over. Hundreds of billions of Chinese exports would still be affected by tariffs and companies would still have to live with the uncertainty of the old ones coming back.
References Pablo D. Fajgelbaum, Pinelopi K. Goldberg, Patrick J. Kennedy, Amit K. Khandelwal. Working Paper 25638. The Return to Protectionism. National Bureau of Economic Research. March 2019, Revised October 2019. http://www.nber.org/papers/w25638